Prepared with carefully selected aromatic plants, our infused oils are 100% clean label. They will give your dish an intense flavor as close as possible to the fresh plant. Incorporated or sprayed, our infused oils will surprise and delight your customers.
ADVANTAGES
Powerful and intense taste
a unique expertise and an innovative process ensures Daregal's oil retains the true flavour profile of the fresh herbs
100% Natural
The infused oils are 100% natural and Clean Label (with no added flavouring)
The ingredients allow labeling "sunflower oil, herb"
Traceability
Guarantee full traceability and consistent quality
Easy to use
Just few drops can enhance your dishes whether as an ingredient or as a finishing touch
APPLICATIONS 
Infused oils can be use for salad dressing or as a finishing touch for salads, meat, poultry, fish or shellfish.
RANGE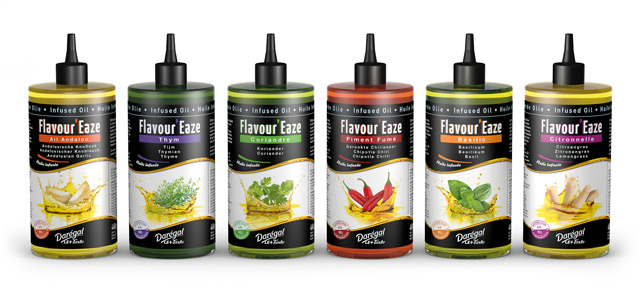 Do you want to know more about our solutions ?
Contact our business advisors : foodservice@daregal.fr
or click on our Contact page