Images speak louder than words.
And action!

ADVANTAGES
Aromatic: for even greater taste and a new eating experience
Fresh herbs, picked at their most matured stage and simply frozen (GMO free, no salt, preservatives, additives or added colour) ensuring a high content in essential oil and a great taste.
Perfect harmony of flavours amongst the herbs, revealing intense aromatic strength.
Beautiful balance of tastes between culinary herbs and any vegetable or potatoe dishes.
Consistent tastes all year round
In pursuit of new flavours, your guests will discover new eating experiences.
Natural and healthy: microbiology guaranteed
Well-being and natural are what our consumers crave. Our herbs are managed by ourselves from beginning to end which ensures their complete traceability.
The insurance of top quality: a healthy product and microbio guranteed.
Practical: Open it, sprinkle it, it is ready!
3 easy steps, success guaranteed: in less than minute, turn your vegetables and potatoes into a fresh and tasty work of art.

Economical: easy and ready to use
Save time and money:
Keep cost under control (no handling: no washing, sorting, slicing or mixing)
Easy budget forecast (no waste, entire content gets used up)
RANGE AND APPLICATIONS
ONEDOZE is the answer for amazing taste in all types of vegetables. Carrots don't require the same flavouring as runner beans!
Persillade & Red Onion Flavour: for your runner beans,…

Garlic & Rosemary Flavour:

great with sauteed potatoes, hashbrowns, new potatoes,…
Onion & Coriander Flavour: ideal with carrots, courgettes,…
And there is a new arrival in the ONEDOZE family!
Provençal Mix: Basil, Onion, Thyme, Garlic, Oregano, Rosemary: for your ratatouilles, runner beans, potaotes,…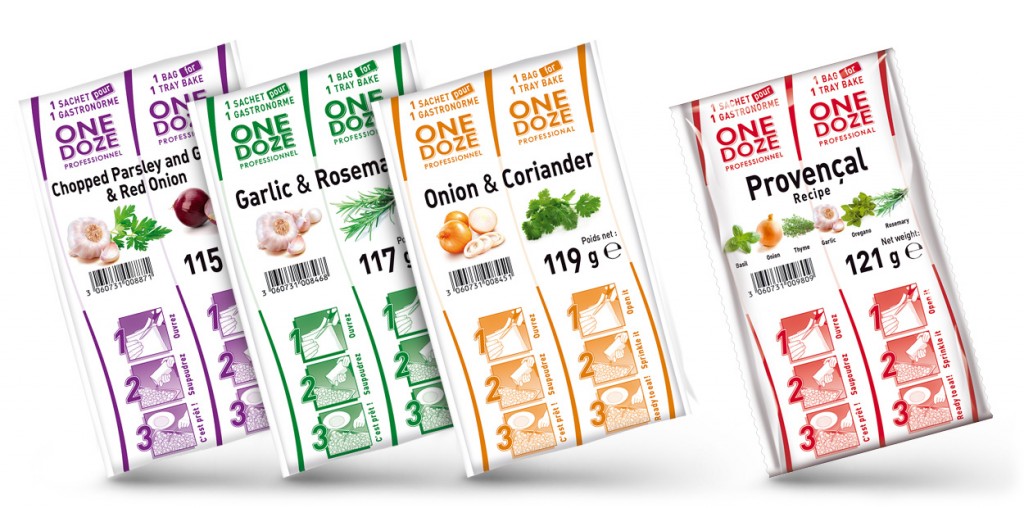 Do you want to know more about our solutions?
Contact our business advisors: foodservice@daregal.fr
or click on our page contact